#BigBeacon Twitter Chat – April 6 – Interdisciplinary Learning Experiences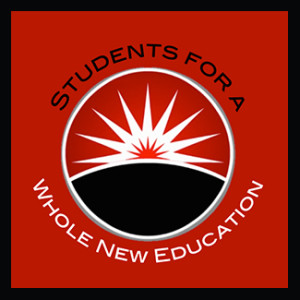 Join Students for a Whole New Education on Wednesday, April 6 at 8pm ET for our chat about:
Interdisciplinary Learning Experiences
As our world becomes increasingly interconnected, opportunities to collaborate across disciplinary boundaries has increased. Students in higher education may develop interests in fields outside of their chosen major. How can we provide meaningful learning experiences for students that want to explore these interests? How can we encourage creativity and innovation at the intersection of different disciplines?
Join us for our conversation on April 6th to share some of your interdisciplinary learning experiences and how we can foster these learning experiences in higher education. 
Students for a Whole New Education aims to be a community that supports students and creates spaces for open and honest conversation. We especially welcome students to join our conversation in the hopes that we can encourage and support each other during our journeys through higher education.
Big Beacon invites students to join in our Twitter Chats focused student-centered issues! We want to engage students in our conversations to transform engineering education. We want to bring student voices to a platform that listens to students' ideas and experiences and cherishes them. Big Beacon values student voices as professional voices and are as valued as those of teachers, professors, and administrators.
About Students for a Whole New Education
Students for a Whole New Education (SWNE) is an initiative Big Beacon launched this year to empower students to become change agents in engineering education. We want to keep students central to change efforts and encourage students to be active in conversations about transforming education. SWNE aims to bring together students from around the world who are united by the challenges they face in an education system that resists change.
How to Twitter Chat
If you've never Twitter chatted before, don't worry; it's very easy! First, get a Twitter account if you don't already have one, and log in. At 8 PM ET on Wednesday go to twitter.com and type #BigBeacon into the search box on Twitter. Thereafter all the tweets with the hashtag #BigBeacon will show up on your Twitter page. To participate, simply express your opinion by sending a tweet, and be sure to append the hashtag #BigBeacon so other members of the Twitter Chat see you are posting. Alternatively, automate the hashtag search and append feature by using the free service Tchat at http://www.tchat.io.