Q&A with Athena Lin of Students for a Whole New Education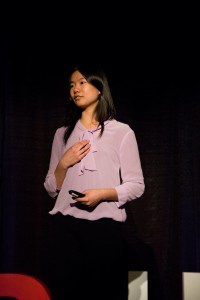 If engineering education is going to change, then that change needs to be advocated by the students who will make up the future of engineering. Meet Athena Lin, an undergraduate engineering student at University of Illinois at Urbana-Champaign, who is doing just that.
How did you first get involved with Big Beacon?

Last June, I came across Dave's writings about engineering education on the Huffington Post. His words about the need for cultural change in engineering education resonated with me since I had just finished my first year as an engineering student. We connected through social media and set up a phone call to discuss Big Beacon and engineering education. Since then, I have joined Big Beacon as a volunteer and have had the incredible experience of learning from and working alongside a team committed to transforming higher education.
What is Students for a Whole New Education, and what you hope to accomplish in the future with SWNE?

Students for a Whole New Education (SWNE) is an initiative Big Beacon launched this year to empower students to become change agents in engineering education. Big Beacon really believes in the power of student voices and wants to keep students central to change efforts and encourage student to be active in conversations about transforming education. We are currently in the advocacy stage. We want to spread word about SWNE and encourage students to reflect on their education. Reflection can be difficult, especially because it isn't something that we are often asked to do in school. SWNE gives students a place to talk about their experiences in education and brainstorm ways to create the changes that we hope to see in our education.
Our goal is to share our stories to begin documenting student experiences in higher education around the world. We hope these stories can make an emotional appeal for the need for change and influence educators and other stakeholders in education to consider students' feelings, motivations, and frustrations in education reform efforts. We plan to share these stories on our Big Beacon website page – it'll be a great platform to spread word and reach many people who are involved in change educational efforts.
Along with her work with SWNE, this summer Athena will be attending Olin College's SEER program—a summer research program for undergraduate engineering students.
What excites you the most about attending SEER?

Through my work with Big Beacon and reading A Whole New Engineer, I learned about Olin College and was fascinated by its mission to revolutionize engineering education. I have so many incredible things about the culture of Olin, the dedication and enthusiasm of the faculty and staff, and the passion students have for engineering. I am excited to interact with faculty and students that will be there this summer. I would love to experience Olin's culture firsthand and see how we may spread its mission across many more campuses.
Learn more about SEER, here.