New Book Calls for Joy, Trust & Courage in Engineering Education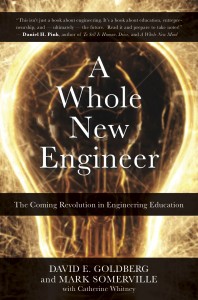 Needham, Mass and Douglas, MI, 8 September 2014 – Our current engineering educational system is broken. As a result, we are not graduating enough or the right kind of engineer innovators needed to solve the complex challenges of the world, from energy production to cyber security. Less than five percent of U.S. undergraduates choose engineering as a degree, and more than 50 percent will leave the major before graduating – despite the lure of higher salaries and jobs for newly minted graduates. Women and minorities are woefully underrepresented at engineering schools across the country and the blizzard of calculus, physics and chemistry lectures doesn't inspire students who, as natural makers, would rather be building things.
In their new book (scheduled for release on October 1, 2014) A Whole New Engineer: The Coming Revolution in Engineering, David E. Goldberg, president of Big Beacon and emeritus professor at the University of Illinois, and Mark Somerville, professor of engineering and associate dean at Franklin W. Olin College of Engineering, contend that engineering education requires a thorough overhaul.
"We are committing gross educational malpractice," says Goldberg, "and yet we mistakenly think that little tweaks to content, curriculum, and pedagogy can shake things up, but the real key is to stop focusing on what professors do in the classroom, and start paying more attention to students."
The authors point out that engineering students regularly top lists of unhappiest students, and that learning engineering is usually thought of as a long, hard slog. Goldberg and Somerville claim it doesn't have to be this way, and argue that a cultural sea change is necessary to prompt the kind of revolution in engineering education that is needed—the kind of sea change apparent at institutions like Olin and the University of Illinois.
"To move students from being passively obedient to courageously inventive," says Somerville, "students need to be unleashed."
Goldberg and Somerville get inside the minds – and hearts – of some of the country's deepest thinkers to find out what's broken in engineering education and how to fix the system.
They draw deeply and honestly on their own personal journeys as educators who had to make difficult but significant changes in their relationships with students to unlock a passion for learning. They have turned away from the traditional teaching approach that relies on the rote memorization of content and turned to an educational experience that is aligned with the creative imperative of the 21stcentury. "The creative era we live in demands that students learn to ask their own questions and then confidently explore a variety of answers to them," says Goldberg. "Instilling this confidence is the tricky part, though, because schools today breed a kind of dependence on the expertise of the professor."
The authors examine successful living models of engineering education at Olin College of Engineering and the Illinois Foundry for Innovation in Engineering Education (iFoundry), an educational incubator begun in 2007 at the University of Illinois Urbana Champaign.
Olin College is a small start-up college founded to radically change the way engineering is taught. Olin has no departments and no tenured faculty.  Illinois is a traditional large public university with a 12-department engineering college, in which a small group of faculty decided to take risks that led to changing the entire first-year experience for engineering students, and is now a model for the rest of the university. Although the two schools couldn't be more different, what the authors learned individually and together points to a surprising conclusion about how to repair engineering education.
In these programs, students are encouraged to follow their passions, work on real projects in teams, focus on solving the compelling needs of people and society (not just technical problems), develop an entrepreneurial mindset to take risks and get things done, and work harder and have more fun than they ever thought possible—awakening their sense of purpose and intrinsic motivation to learn. Collaboration is encouraged, not competition. And joy is emphasized over suffering through sums and statistics.
Goldberg and Somerville identify and discuss the five pillars necessary for educational transformation including: joy, trust, courage, openness, and connectedness. Crucial among these are trust and courage. When a student is trusted by a professor it can help call forward the courage in the student to try something new, to risk being wrong," explains Somerville.
And, more broadly, Somerville and Goldberg argue in the book that some of the techniques currently in use at Olin and the University of Illinois should serve as a lesson to all educators to approach teaching by injecting more purpose and joy into the classroom.
In his review, Harvard University researcher and author of Creating Innovators, Tony Wagner says, "Far more than an inspiring story about the transformation of engineering education, this book serves as a call to action and blueprint for reinventing all education for the twenty-first century." And New York Times bestselling author, Daniel Pink, says of A Whole Engineer, "This is not just a book about engineering. It's a book about education, entrepreneurship—and ultimately—the future."
A Whole New Engineer: The Coming Revolution in Engineering Education is published by ThreeJoy Associates, Inc. of Douglas, Michigan. The book is available in hardcover through local retailers and will be sold through major online book outlets.
For more information, click here or write info@bigbeacon.org.  Original post here.