Tuesday, 9am ET, 14 April, BB Innovators Hangout: Coaching, Culture & Tembusu College in Singapore with Catelijne Coopmans and Kelvin Pang
Join BB Innovators & Innovations host Dave Goldberg on Tuesday, 14 April 2015 at 9:00 am ET for a live Google On-Air Hangout (link here) with Catelijne Coopmans and Kelvin Pang as they discuss the use of coaching at Tembusu College at the National University of Singapore. The Tembusu website (here) describes the program as follows:
Tembusu College is one of four residential colleges at University Town (UTown), an extension of the main NUS campus at Kent Ridge. The colleges, the first of their kind in Singapore and Southeast Asia, provide an exciting alternative to undergraduate campus living.
More information about the program can be found here, as well as this video highlighting the Third Year Experience:
Tembusu Third Year Experience from Yee Han on Vimeo.
Catelijne's short bio is presented below: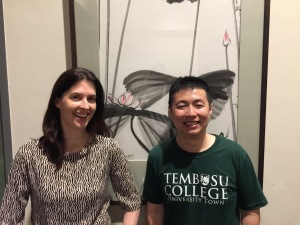 Catelijne is Director of Studies at Tembusu College. Drawing on her background in social studies of science and technology, she has been working with colleagues and students to build an engaging, interdisciplinary, student-centric educational programme. She has been actively bringing coaching-related practices into higher education, most tangibly through Tembusu's Third Year Experience and its fourth year mentoring programme.
Kelvin's short bio is presented below:
Kelvin is Director of Student Affairs at Tembusu College. He has a background in organizational psychology and leadership studies, and now teaches interdisciplinary courses on social innovation and negotiation. His strong interest in student development infuses all aspects of his work, including his co-development and facilitation of the Third Year Experience workshops and mentoring programme at the college.  
Please join us live or later on YouTube for what promises to be a lively exchange about an important educational initiative in Asia.
Note: Kelvin was not able to join the hangout due to a family emergency. Mavis McAllister, who has been working as a consultant with the Tembusu Third Year Experience team, participated instead. So did Sonja Chua, a third year pharmacy student at Tembusu College.