Students for a Whole New Education
Students for a Whole New Education (SWNE) is an initiative Big Beacon launched this year to empower students to become change agents in higher education. We want to keep students central to change efforts and encourage students to be active in conversations about transforming education. SWNE gives students a place to talk about their experiences in education and brainstorm ways to create the changes that we hope to see in our education.
Students for a Whole New Education aims to bring together students from around the world who are united by the challenges they face in an education system that resists change. We launched as an international organization and have students from six countries across four continents. We are hoping to expand and connect with more students as well as education stakeholders.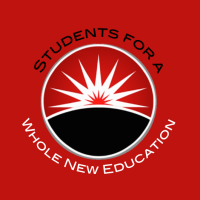 If you are interested in joining our movement or would like more information about us, please email one of our students, Athena, at athena@bigbeacon.org. We would love to discuss opportunities for you to get involved with SWNE. To disrupt the status quo, we will need as many collaborators as possible!
Our goal is to share our stories to begin documenting student experiences in higher education around the world. We hope these stories can make an emotional appeal for the need for change and influence educators and other stakeholders in education to consider students' feelings, motivations, and frustrations in education reform efforts.
University College London
Virginia is in the final year of her undergraduate degree at University College London. She studies a new interdisciplinary degree, the Bachelor of Arts and Sciences, within which she's majoring in Civil Engineering and minoring in International Affairs and Chinese. Her work experience spans four countries and three continents, across a number of sectors: civil engineering, renewable energy, education, philanthropy and international development. She speaks fluent English, Spanish, Mandarin, French and Italian, and enjoys the most a good book, a good conversation and people-watching. Virginia joined SWNE after coming across Dave Goldberg and sharing similar aspirations for Engineering Education across the globe. Virginia strongly believes that Engineering Education in the 21st century must be in touch with reality; project work-oriented; collaborative and global. Students should be tested against their problem-solving skills and not their exam technique. Virginia hopes to bring engineering students around the world closer to make this change happen. She's a guest writer for the Big Beacon blog (you can check it out here), and shares thoughts from time to time on Twitter and on her personal website.
University of Illinois at Urbana-Champaign
I am a junior studying materials science and engineering. I am passionate about engineering education and bringing student voices to education reform. As a student and an aspiring engineering education researcher, I am deeply interested in studying the culture of engineering and ways we can create institutional climates that celebrate and support diverse students. I am also interested in raising awareness on social justice issues in engineering education. I joined SWNE because I believe in the power of student voices to change higher education. I love being a part of a community of students who have to courage to stand up for what they believe in and are passionate about transforming education. SWNE has shown me the power that showing solidarity with others can have in creating change in higher education. I aspire to empower students to reflect on their education and create opportunities for students to challenge the status quo. I plan to pursue a graduate degree in engineering education after college and a career in academia to improve the undergraduate experience across all engineering campuses. Feel free to contact me through email at athena@bigbeacon.org or visit my website athenalin.com. I would love to hear from you!
Emily is a PhD student in the Department of Electrical and Computer Engineering, focusing on creativity in engineering education.  She is interested in the integration of innovative design practices in programming, circuit design, and electronic design automation.  Her research work in cross-disciplinary curriculum development has won departmental and university awards, and has been presented internationally.  Emily is the chair and co-founder of the U of C Engineering Education Students' Society and is an advisory board member for the campus Minds in Motion summer camps.  She is also a published writer, an oboist, and a jewelry artist.
Follow her on Twitter, Facebook, or on her website!
http://emilyannmarasco.wordpress.com
I'm part of SWNE because I believe in positive change (and love to shake my first and criticize lame stuff). Throughout my time as an engineering undergrad, I've been confronted with a lot of absurdity and paradoxes which seem inherent to the present education system. The absurdity of preparing us to offer novel innovations in technology, by making us redo problems with only one solution that have been known and expected since before my parents were born. The paradox of spending an often unhealthy amount of time, energy, and money doing such absurd work, all the while being encouraged by the school to develop balanced personal skills and undertake entrepreneurial projects in our imagined free time. The futility of lecture-style learning, where a depth of theoretical math is presented but never is connected to the real world or human values. How are we supposed to graduate with the ability to harness science for human benefit. when our schooling not only doesn't teach us how, but actually encourages us not to venture beyond the realm of objective calculation in the interest of passing our next exam? Internships and work experience have only served to reinforce all of the notions above. That's why I'm here.