BB Real Innovators & Innovations: Rohit Bhargava (UIUC) talks to Dave Goldberg, Mon Feb 2, 12:30pm ET & Twitter Chat, Wed Feb 4, 8pm ET
The 2nd Big Beacon Real Innovators and Innovations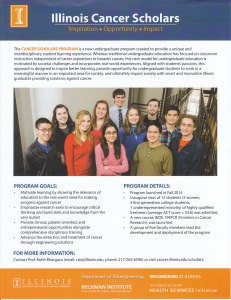 show of the year is looking forward to speaking with real innovator Rohit Bhargava, Professor of Bioengineering at the University of Illinois at Urbana-Champaign talking to Dave Goldberg about the new innovative program Illinois Cancer Scholars.   This new program, launched in the fall of 2014 engages freshmen in the forefront of cancer research and challenges them to do research early in their careers.
This program is part of the relaunch of the #BigBeacon weekly twitter chat as The Big Beacon Media Network for Educational Transformation (BBMNET).  Combining the reach of the twitter chat with new programming from both new and existing media affiliates and affiliated bloggers, BBMNET will carry the voice of educational transformation around the globe with renewed vigor and force.
This week's programming has two components:
Google Hangout On Air on Monday, February 2, at 12:30 pm ET: Big Beacon Real Innovators & Innovations starts with a live interview of Professor Rohit Bhargava. Host Dave Goldberg will interview Rohit via live Google Hangout On Air and you can watch live or recorded at the link.  Watch last month's interview with Alessandro Moreira here.
#BigBeacon Twitter chat on Wednesday, February 4 at 8 pm ET: Join twitter chat (Hashtag: #BigBeacon) regulars as they join Professor Bhargava and Dave Goldberg for a twitter discussion of the Challenges and Opportunities for Early Engagement in Purposeful Research and Study. The usual Socratic questions will be posed and all twitter chat participants will be encouraged to engage in a lively chat on this important topic.
BBMNET programming is continuing & are scheduled from January until summer break at the end of June as follows:
First Wednesday of the Month: Real Innovators & Innovations with Dave Goldberg
Second Wednesday of the Month (Jan, March, May): Engineer your Life with Erica Lee Garcia
Second Wednesday of the Month (February, April, June): Engineering Equity into Education with Meagan Pollock
Third Wednesday of the Month (Jan, March, May): Students for a Whole New Education with Athena Lin
Third Wednesday of the Month (Feb, April, June): Junior Enterprise in the US & Around the Globe with Morgan Bakies
Fourth Wednesday of the Month (Jan, March, May): The PLTW Program with Dorothy Powers & Cameron Hassler
Fourth Wednesday of the Month (Feb, April, June): EpiCenter USA & Student Entrepreneurship with Laurie Moore
Keep your eyes on the Big Beacon Blog for more information as the season progresses.  Also, Big Beacon media affiliate The Engineering Commons podcast with Jeff Shelton continues his series of engineering subject matter podcasts (here).
How to Twitter Chat
If you've never Twitter chatted before, don't worry; it's very easy! First, get a Twitter account if you don't already have one, and log in. At 8 PM ET on Wednesday go to twitter.com and type #BigBeacon into the search box on Twitter. Thereafter all the tweets with the hashtag #BigBeacon will show up on your Twitter page. To participate, simply express your opinion by sending a tweet, and be sure to append the hashtag #BigBeacon so other members of the Twitter Chat see you are posting. Alternatively, automate the hashtag search and append feature by using the free service Tchat at http://www.tchat.io.