#BigBeacon Twitter Chat, Wed, 4 March, 8pm ET w/ Cohosts @deg511 & @AlanJSnyder
Cohosts @AlanJSnyder (Alan J. Snyder) and @deg511 (Dave Goldberg) are pleased to announce a twitter chat on Designing Change Initiatives for Student & Faculty Engagement & Unleashing.  The following are some of the Qs explored in the chat:
What aspects of physical plant encourage the formation of a special micro-culture separate from traditional campus culture?
What emotional shifts are necessary for faculty and students to both engage and unleash faculty and students?
What are different (1) assumptions, (2) espoused values, and (3) artifacts promote and sustain the new culture?
In what ways can such activities align and conflict with normal faculty responsibilities for scholarship and research?
In what ways do case studies such as Mountaintop, iFoundry, Olin, UFMG, and others tell us about the possibilities for this kind of change?
What can students, faculty, and administrators do to promote these kinds of changes on their campuses.
How to Twitter Chat
If you've never Twitter chatted before, don't worry; it's very easy! First, get a Twitter account if you don't already have one, and log in. At 8 PM ET on Wednesday go to twitter.com and type #BigBeacon into the search box on Twitter. Thereafter all the tweets with the hashtag #BigBeacon will show up on your Twitter page. To participate, simply express your opinion by sending a tweet, and be sure to append the hashtag #BigBeacon so other members of the Twitter Chat see you are posting. Alternatively, automate the hashtag search and append feature by using the free service Tchat at http://www.tchat.io.
About the Co-Hosts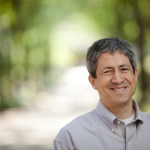 Alan J. Snyder is Vice President and Associate Provost for Research and Graduate Studies at  Lehigh University. A Bioengineer by training, prior to coming to Lehigh Alan enjoyed a varied 27-year career in academic medicine, including his research on design and development of devices for patients with intractable heart failure, teaching subjects including bioengineering, medical ethics and professionalism, an clinical research ethics, and leadership positions in technology transfer and research administration. At Lehigh, the university's identity as a student-centered research university, his interest in the value of the research environment to students at all levels, and his interest in commonalities among scholarly pursuits in different fields of study led him to his work on the Mountaintop initiative.
David E. Goldberg  is president of the non-profit Big Beacon and also a noted computer scientist, entrepreneur, civil engineer and professor emeritus at the University of Illinois at Urbana-Champaign. He resigned his tenured professorship in 2010 to work full time for the transformation of engineering education. He can be reached at deg@bigbeacon.org. In October 2014 with Mark Somerville he co-authored (along with Catherine Whitney), "A Whole New Engineer: The Coming Revolution in Engineering Education," published by ThreeJoy Associates and available in hardcover and all major e-book formats.